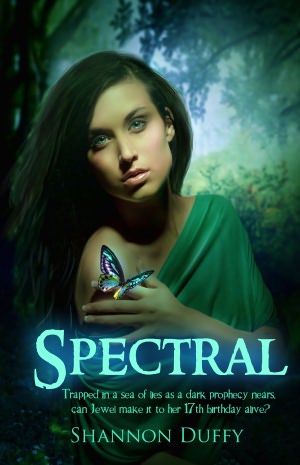 Author
: Shannon Duffy
Format
: PDF
Release Date
: April 10, 2012
Pages
: 334
Publisher
: Tribute Books
Genre
:Young Adult/Paranormal Romance/Mystery/Urban Fantasy
Buy here:
Convinced she's a part of the witness protection program, sixteen-year-old Jewel Rose is shuffled around the globe with her family like a pack of traveling gypsies. After arriving at lucky home twenty-seven, she stumbles upon a mysterious boy with magical powers claiming to be her guardian . . . and warning of imminent danger. Despite the obvious sparks between them, Jewel discovers a relationship is forbidden, and the more she learns about dark, brooding Roman, she begins to question who she can even believe—the family who raised her, or the supposed sworn protector who claims they've been lying to her all along.

As she struggles to uncover who her family has really been running from, she is forced to hide her birthmark that reveals who she is. With new realities surfacing, unexplained powers appearing, and two tempting boys vying for her heart, Jewel battles to learn who she can trust in an ever growing sea of lies, hoping she'll make it through her seventeenth birthday alive.
*********************************************
I have been honored again to review another great book from
Tribute Books
. I am loving these books, but so far they have all been YA Contemporary Romance books. I loved them all, but you guys know I breathe the paranormal. I have been dying for a paranormal read from this awesome publisher and I finally got it through
Spectral
. I am head over heels for this book. I mean, the cover alone begs to be read. How gorgeous is that? If you are looking for a YA PNR filled with mystery and action, look no further.
Our main character Jewel believes her and her family are on the run. She thinks they are in the witness protection program. They don't stay in one location for very long. They end up in a new location and, of course, Jewel (this time's false identity of True) is just tired of the running. She can't make friends or let people know who she really is because people are out to kill her family. Jewel soon realizes through a little accidental eavesdropping, she's a Spectral. A Spectral is a witch that is so powerful, they make their covens more powerful and protect them. Unfortunately, past Spectrals have been so crazy, other clans want to kill them before they turn seventeen; when they gain their powers. And Jewel's 17th birthday is only a couple of weeks away.
I loved our character Jewel. She is just a teenage girl that wants to live a normal life. I love how well she handles things...well most of the time. She was smart enough not to let her family know she knows they have been lying. She is strong even when she doesn't think she is. I also love the relationship she had with her brother Jayden, they were so adorable together. He was nothing like my brother who acted like a total brat from day 1. Nonetheless, the relationship between them is very strong even though her family has been lying to her. Almost had a tear in my eye at one point when she tries to protect him. Also can't forget Taylor, the girl she quickly becomes friends with her first day of school. They may barely know each other, but they almost felt like sisters to me and that was definitely something Jewel needed.
There is a love triangle and I was drooling over both guys. Chase is the sexy, blonde jock. Roman is the dark, sexy musician. Oh and Roman just happens to know who and what Jewel really is. I liked their chemistry a lot more though. Duffy did a great job building mystery around him and whether or not he could be trusted. I love my romance to keep me at the edge of my seat. And boy was I.
The villains in this book are insane. I mean truly nuts. Witches from all around the world wanted Jewel for her power or to just kill her since, as mentioned in the book, she is Armageddon with legs. Again, Duffy had me turning the pages like a mad woman. I had to know the who and the why. The twists will definitely have you reeling. Always know I have a winner when I end up screaming, "Oh my God! No she didn't just do that!" Trust me, you will be doing that a few times with this book.
I love the story. I just couldn't put this down. Man, I have been finding a lot of addictive books recently. I am on a roll. I love it. It is story full of mystery, lies and deception. This whole book is based on trust and it seems everywhere Jewel turns, someone wants to stab her. Literally. And there are witches! I never get to read as much witch stories as I would like and Duffy has reminded me that I need to change that. I really love the idea of a Spectral and how they come about. Such a unique concept.
Another highly recommended read. It just has everything I could want in a story. I was so intrigued with this book. Nothing was predictable, I truly didn't know what was going to happen next. It is nice finding a story that will keep you guessing. And when you think you figured it out, it throws you something else you didn't see coming. Seriously people, read this book now. You won't regret it.
*This book belongs to the following challenges*
*********************************************
*********************************************
Courtesy of Tribute Books, one lucky winner will get an ebook version of Spectral by Shannon Duffy. All you have to do is leave your name and email address. Please share link on Twitter, Facebook etc. 1 extra entry for each link share. Good luck everyone!
*Must be a Follower to win
*One winner will be chosen by Random.org
*Contest ends July 5th
*Ebook version, so anyone can enter!
*Book provided by Tribute Books