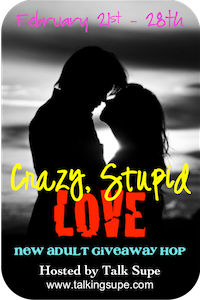 I didn't know what New Adult was until about two months ago. But it is a genre that is definitely appropriate. It should have been around forever. It makes sense. But I am loving the genre which is why I am so happy to be a part of this awesome blog hop hosted by Talk Supe. Thank you so much ladies. Now there are a lot of New Adult contemporary reads, but I will be sure to add some paranormal/science fiction reads for you guys as well. Let's get this show on the road :D
But first. what is New Adult you may ask? Well time to hit up the Wiki.
New Adult-
New-adult Fiction or post-adolescent literature is a recent category of fiction for young adults first proposed by St. Martin's Press in 2009. St. Martin's Press editors wanted to address the coming-of-age that also happens in a young person's twenties. They wanted to consider stories about young adults who were legally adults, but who were still finding their way in building a life and figuring out what it means to be an adult.
Paranormal/Science Fiction New Adult:
Contemporary New Adult:

*********************************************
GIVEAWAY TIME!!!
a Rafflecopter giveaway
*One winner will be chosen by Rafflecopter
*Contest ends February 28th!
*Open Internationally!
*Book provided by me from Amazon/BetterWorldBooks
*********************************************
Check out the other bloggers on this awesome tour :)