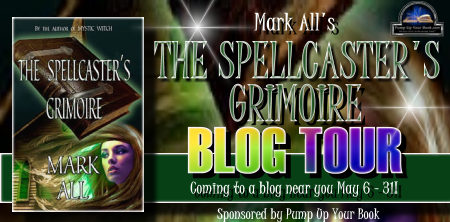 Click image to visit tour page
Author
: Mark All
Format
: PDF
Release Date
: February 28, 2013
Pages
: 224
Publisher
: Imajinn Books
Genre
: Fantasy/Paranormal/Romance
Buy here:
Bestselling witchcraft author Trish Sinclair has a shameful secret: she's a lousy spellcaster, and the spells in her books belong to others. So when a dying warlock entrusts her with an ancient and powerful grimoire, she runs for her life from his murderer, psychotic witch Kate Cavanaugh. Kate pursues Trish relentlessly to obtain the grimoire, which holds spells to command the fearsome power of a magic crystal hidden in town-and Kate is determined to have that power.

When the town coven refuses to help Trish protect the grimoire, she is forced to turn to cynical warlock Aidan McCarthy, who has a secret agenda of his own, and Rain Devereaux, a novice witch whose spellcasting abilities are even worse than Trish's. As Kate unleashes the elemental might of tornadoes and ice storms on the trio, they desperately struggle to defeat her.

But Kate is too powerful, and she manages to steal the grimoire and unearth the crystal. Trish knows Kate will use the stone's power to exact her deadly revenge on Aidan and the town coven unless Trish can manifest her latent magical abilities to save them.
*********************************************
The Spellcaster's Grimoire follows a woman named Trish who is at the top of the world. She is a best selling author who has written books about witchcraft. She is in a town of witches, her mother was a witch, but she doesn't have her mother's talents. Or does she? When Trish's second book is released and talks about the powerful spellcaster's grimoire, she gets some unwanted attention to say the least. No one was supposed to know the book still existed because of the power it can give. Trish is now thrown into the chase of her life with a teenage wannabe-witch and a loner that the town tries to avoid. What can possibly go wrong?
This book was loads of fun. If you are looking for something that is fast paced and exciting, this is the perfect choice. I love that this book wastes no time putting you in the action. Trish is so caught up with her rising fame she gets by giving out forbidden information, she doesn't stop to consider the consequences. Those consequences come back and bite her on the ass big time. Due to her, a crazy witch named Kate is hunting her because she is now the guardian of the grimoire. She has to protect it with her life now. A powerful warlock and Trish's mentor, Benton, was the one looking over the book. But she indirectly got him killed. Her selfishness has now brought a lot of things to light. Trish now feels like a complete failure due to some dormant powers she didn't know she had that could explain her success. Not only is she in for the fight of her life, but she also has to face the fact that she is a fake.
I really enjoyed Trish. I thought she was a great lead character because she was strong and very flawed. You might want to smack some sense into her every once in a while, but that is what made her human. At least she wasn't TSTL. Aidan was great as well. He definitely had some demons that I was curious about learning about specifically his past with Kate. Kate is a very powerful witch who wants all the power the grimoire gives. But I love where All goes with this. I had my suspicions about Kate and I was right. I love that we get to see things from her perspective, it added even more to the book looking through the eyes of the villain. I also enjoyed Rain. Rain is fresh out of high school and wants to be a witch so bad. She has power, but it doesn't do much. She can memorize spells like no one's business. She is the coven's database on spells. I love the story we are given about her. She is Goth and quite innocent. But we learn some things about her past that was quite scary and unexpected. I really enjoyed this trio. They had a chemistry that worked really well even though they couldn't see it.
I won't spoil this story, but I will say it is definitely worth checking out. It is an action packed Urban Fantasy that was hard to put down. The characters and the story was a lot of fun. I loved how this ended. It is about more than just power and magic and I am glad the characters saw that especially Aidan. His past made him and cynic and a loner and I can see why. I really loved this book. I think any paranormal lover would also be head over heels for this book. Definitely recommended.
*********************************************
Mark All is the author of paranormal thrillers The Spellcaster's Grimoire and Mystic Witch, published by ImaJinn Books in trade paperback and eBook formats. He has won two international writing awards and contributed to Computer Legends, Lies & Lore.
Mystic Witch received a 5 Star review from the Paranormal Romance Guild, and 3½ stars (out of 4½ possible stars) from RT Book Reviews.
Mark is a full-time author after a career as an instructional systems designer at a Fortune 16 company. Prior to his work in computer-based training, he held jobs ranging from gravedigger to FM radio announcer to professional rock guitarist.
Mark presents writing workshops and taught his "Planning Your Novel" course at the Spruill Center for the Arts.
He earned a Masters degree in computer-based education and a Bachelor of Music cum laude.