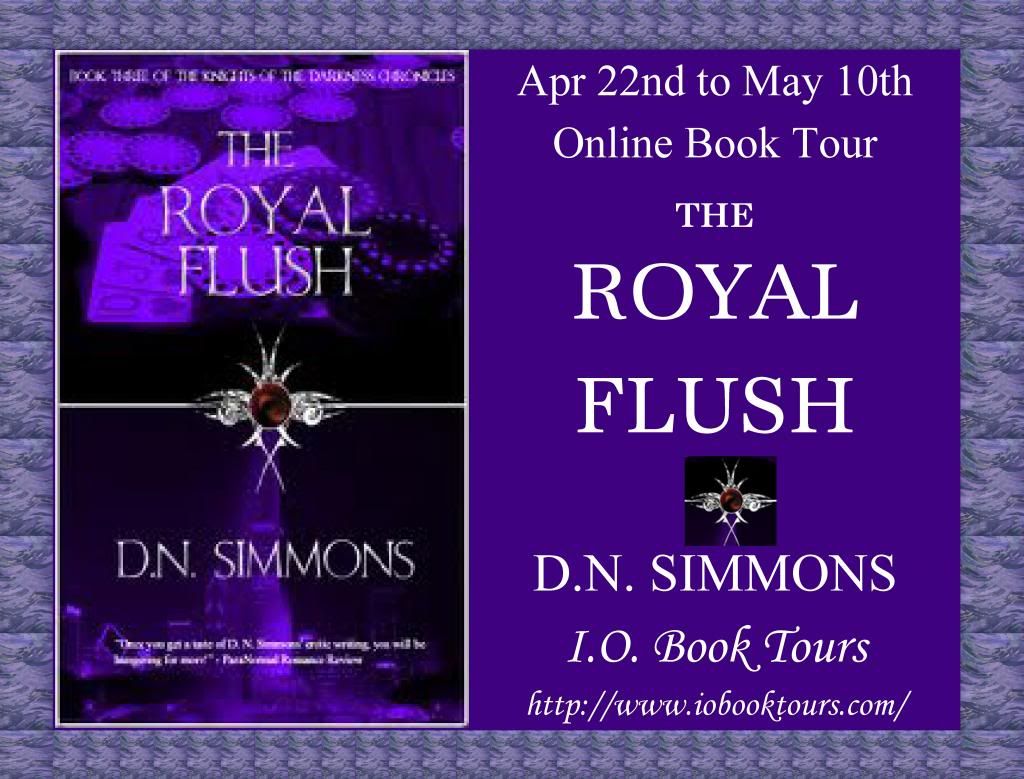 For more info, visit HERE :)
Excerpt #6 from The Royal Flush
"

Oh, I'm so full right now, but I'll be ready to eat again in about two hours," Devin said with a chuckle.
"

You and me, both," Justin agreed.
"

I hope you two exchanged phone numbers with all this damn talking you're doing," Sergio teased.
"

Not yet," Devin said, "but I think we will."
Sergio chuckled. "Ahh, I miss my woman," he said aloud to himself as he stretched his long form.
"

I miss my man," Devin stated.
"

Even if he were here, you'd still be missing him," Sergio said.
"Shut up!" Devin said, faking anger. "That doesn't matter, because when he is awake there is never a dull moment."
"

Egh, that's a little too much information for my taste," Sergio said with a grimace.
Xander chuckled. "My sentiments exactly."
"

What?" Devin asked, looking at both Xander and Sergio. "I'm just saying that I have a lot of fun when I'm around him. We have a lot in common and I love being around him."
"

Is that it?" Sergio asked. "Well, for once your mind wasn't in the proverbial gutter."
"

No, but clearly yours was," Devin retorted.
"

I hope that this vampire doesn't go back on his word," Nagesa stated. Everyone turned, looking at him. He was normally very quiet, and spoke only when he had something to say. Whatever the case, when he did speak, it was always relevant.
"

We all hope that this Master vampire is an honorable one. It is true that not all vampires are honorable, as it is true with all beings. Let us hope that Darian knows his Master well," Xander said thoughtfully.
*********************************************
Author
: D. N. Simmons
Series
: Knights of the Darkness Chronicles
Number in Series
: 3
Format
: PDF
Release Date
: April 11, 2011
Pages
: 372
Publisher
: Rushmore Publishing
Genre
: Dark Fantasy/Urban Fantasy/Paranormal Romance/GLBT/Erotic Romance
Buy here:
It's The Royal Flush is the third novel in the edgy, action-packed, sexually-charged, Knights of the Darkness Chronicles.

In the third installment of this tale, the hunt is on! The coven, Pack and Pride must join forces to stop a group of big game hunters by any means necessary! Hold on to your seat as the Knights take you on yet another wild ride that will not let you go until the last word is read and the book is closed!

Original, sexy and gritty, the Knights of the Darkness Chronicles will suck you in and take you for a ride you won't forget!

This book has been previously published and has been substantially revised from its original release.
*********************************************
Simmons is a freaking genius! I can not and will not get enough of this series. I am 100% addicted. The characters get better and better and the story They are impossible not to love. I would love to be best friends with Natasha. Not only is she comfortable with vampires now, especially her two lovers, but she is comfortable around all paranormals. What is even better is that she brings them all together because they are friends she will bend over backwards for.
Not only do we get some of Natasha, but we get plenty of those in Natasha's life. Darian and Xavier were incredible as always. I loved the thressome. I am especially loving Darian more and more. He was still him, but he has softened a bit. I love that we have seen such a playful side to him. It made me love him more because I didn't think he could be playful. I also love that we finally know when he was turned and how. What a great backstory. Natasha finally has some steamy scenes with Darian. It was so worth the wait. I loved it. I love all the relationships in this series. I love that Simmons writes relationships of all kinds. It isn't just male/female. I love that she covers it all and I love even more that I care about each and every one of these characters.
The story, as always, was amazing. Natasha is called up by the weres and the vampires, given her abilities, to find those who have been kidnapped. She has visions when she touches someone's personal belongings. Her visions work when she falls asleep. She has visions of the the missing people being trapped in concrete cells. It soon comes to light that they are being taken for a high-stakes hunting game. Twelve very rich and powerful people are gathering supes and placing bets on their hunt. But Simmons doesn't stop there. She does throw some amazing twists for us. Wow, just wow. Simmons can do no wrong. I will be jumping on book 4 immediately.
This series is truly one of my favorite series ever. I am going to say this given the latest release, this is what the Sookie Stackhouse series should have been like. There are aspects of this series that remind me of classic Sookie, not the current Sookie. But that is a rant saved for another day or month. I am reeling. Nonetheless, this is a must-read series. Put Simmons on your must buy list. You will thank me, trust me. Oh and thank you again Simmons for another incredible ending. This was just as sexy as the last one, actually it was even more sexy. I am in Heaven right now. Thank you.
*This book belongs to the following challenge*
Under The Covers Book Blog 2013 Immortal Reading Challenge!
*********************************************
My reviews of the previous books here:
*********************************************