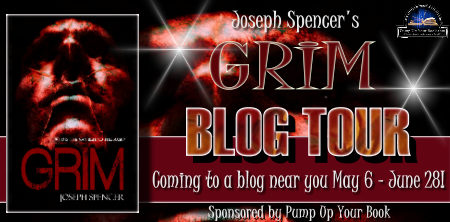 Click image for tour info and more
Author
: Joseph Spencer
Format
: PDF
Release Date
: September 1, 2012
Pages
: 239
Publisher
: Damnation Books
Genre
:Paranormal/Mystery
Buy here:
Amazon
| Barnes & Noble | Kobo
Synopsis from Goodreads
Grim is a complex, gritty, and often gory tale which follows a series of grisly murders in Prairieville. The blood trail leads to a reclusive millionaire Heath Grim, who wears a mask to hide his war scars from the world, but he harbors a darker secret on the inside. Virtuous detective Adam White almost always gets his man, but he's haunted by the one case he's never closed - his wife's murder. When White is pushed to the limits of his sanity from a rising body count and a criminal kingpin who has turned crooked cops and corrupt politicians against him, will he be able to collar the killer? Or will a plot to tarnish his image and the killer's information on a common enemy turn White into the type of man he's hunted throughout his law enforcement career?
*********************************************
Goodness gracious, I enjoyed the hell out of this. I am such a fan of Joseph Spencer. I am so glad I stumbled onto this tour. I love how this book flows from one character to the other. Spencer has introduced us to a lot of them. It may seem a bit overwhelming at first, but it all goes together beautifully. Our main character, one of them anyway, is Heath Grim. He is quite the character to say the least. He is very mysterious and hides his face behind a black mask due to scars he received while at war. But the mask is not the only thing he hides. He is possessed by something that makes him do things he doesn't want to do, but can't help.
Another character I loved was Adam, the White Knight. He is a detective in the lime light. He is incorruptible and everyone loves him. He is always crowned a hero. He is the face of justice. But he has mysteries of his own. He is on his own mission to find the person who murdered his wife. He is lost without her. But he always makes sure he does the right thing no matter what. I loved this character a lot along with Grim. Spencer has given us so much depth with these characters even with the obvious bad guys. I love it when an author takes us into the mind of the bad guy.
But to be fair, with the exception of Adam, you can't tell who is the bad guy really is. There are various degrees of bad in this book and that just added another level to this book. I loved how Spencer did this. We have the obvious gangster villain, Cyrus, who pretty much controls everyone (cops and all). But what about Grim? He is intimidating and scary, but it isn't intentional. I won't give it all away. But it is fascinating being in his mind. What a character he was. I would love a whole movie on nothing but him. Just incredible. I loved his story. You will be captivated. Guaranteed.
I love how this book is all about pushing someone to their limits, specifically Adam. He is trying to crack a murder and can't shake the feeling that a certain politician has something up his sleeve concerning his investigation. It pushes him because can he really stick to his moral code when everyone around him is being manipulated, coerced or bribed by the bad guy.
Now if you are like me and love The Dark Knight like no tomorrow, this should sound familiar. From the get go, that was the only thing I could think about when reading parts of this. Grim is the bloody, gritter version of The Dark Knight. Now mind you, that doesn't take anything away from this book, but it is hard not to notice the similarities. But where The Dark Knight is okay for everybody, this is strictly for adults. That just made me love it more.
This is a must read. This is a great mix of paranormal and mystery. Fans of either genre would love this. I didn't expect that mix, but I loved it. This book is a raw, in-your-face, fast-paced read. You need to prepare yourself for this one. These characters will stick with you long after it is over especially Grim. I am a new fan of Joseph Spencer and you should be too. I can't wait to see what else this man has up his sleeve.
Rating:
*This book belongs to the following challenge*
BCC's 100 Books In A Year Reading Challenge 2013!
Grim Virtual Book Publicity Tour Schedule