Author

: Georgia Le Carre
Series

: The Billionaire Banker
Number in Series

: 1
Format

: PDF
Release Date

: November 1, 2013
Pages

: 275
Publisher

: Self-published
Genre

: Contemporary Romance/Erotic Romance/New Adult/Romantic Suspense
Buy here:
Synopsis from
Goodreads
When Lana Bloom learns the devastating news that her mother is dying, she is faced with a terrible dilemma. The one thing that can save her is the one thing she does not have.
For young and Innocent Lana, The unthinkable is her only choice.

When she walks through the door of that exclusive restaurant she has no idea of the seismic shift her life is about to take, for the highest bidder will not be the rich man she has accompanied.

Fate drops her at the feet of the deeply mysterious and dazzlingly gorgeous American banker, Blake Law Barrington. Throbbing with raw masculinity and arrogance, this is a man who owns all that he pursues.

And now he wants her.

Lana cannot deny she is both intrigued and intoxicated by the world Blake inhabits and the smouldering passion he stirs in her body, but she is also fearful for this man is addictive and right now she is very vulnerable. She knows she should focus only on the arrangement, but how can she?

When he has opened a door that cannot be closed…
*********************************************
The Billionaire Banker is a story that follows a young woman's desperate attempt to save her mother. Lana has just been let go from her job and doesn't have the money that could save her mother's life from cancer. Doctors say she doesn't have a lot of time left and so Lana must get money fast ans sadly, there is only one way. Lana's first attempt to sell herself to a rich man is worse then she ever would have imagined. She is somehow saved by an even richer man named Blake who has been watching her all night. They soon reach an agreement. It is strictly business, but it soon turns into something they both deny. Even if they were to talk about their feelings to one another, Blake's family and tragedy both get in the way before they can be together. And maybe it is for the best.
Oh goodness gracious. My heart is still pounding. I finished this book in a day. It was hard to put down. This is Le Carre's debut and it is one hell of a debut. I loved everything about this book. I was so in love with Lana. For her to go to such depths to save her mom was just heartbreaking. She is very innocent and has a lot to learn, but that doesn't take away anything from her. She has a mind of her own and is always looking out for what is best for her family. I loved a lot of the conversations between her and Blake. The debates on the differences between the rich and the poor were fascinating. Lana said one quote that I thought was so wise and beyond her nineteen years of age.
"I learned that a successful parasite is one that is not recognized by its host, one that can make its host work for it without appearing as a burden. As such it must be the ruling class in every capitalist society that is the real parasite." pgs. 139-140
I loved that. I also really loved Blake. I wasn't sure about him at first, but I started slowly falling for him too. He definitely is hiding a lot of things and it is mainly about his family. We meet a couple of them along with the people they run with, they are atrocious to say the least. The last couple of chapters had me screaming at my ereader, "No no no no no, you bitch, don't you dare!" You will be screaming the same thing too, trust me. But this story was both growth for Lana and Blake. Lana doesn't know much about the world because she focuses everything on her mother. Through Lana, Blake is slowly starting to open his eyes and see how blinded he has been and how wrong his family's way of thinking is. I felt really bad for him especially after meeting his father.
I also loved Lana's friends, Billie and Jack. Billie was a riot. That girl does not have a filter and I love it. She was a great friend to Lana and always there to help her. Same thing for Jack. He is more of a brother to Lana, but Lana's mom definitely thought there would be more between them. I did like the chemistry between them, but they did feel like they were more related even though they are not. But I love how protective he is of her and how he does understand her situation even though he doesn't like it.
The pacing of the story was just perfect and I love how it turns out. Do not go into this thinking it is a sweet and sexy romance. Oh no, there is a lot of dirt and shit these two have to tread through before they get to the sweet part. The ending of this book is a clear indication of that. There is a lot more at play than I first thought and more than the characters realize. Blake and Lana have entered this 3-month agreement in exchange for Lana getting enough money to pay for her mom's treatment. They both know this is temporary and it will lead to nothing. He expects to be bored of Lana like his other conquests, but they both see something more in each other. They come from two completely different worlds. Lana is barely making ends meet and Blake comes from old money. He was born into privilege. But events and certain people get in the way of things really progressing between them. I am dying to see how this plays out. Like I said, they have no idea that there is more going on behind their backs.
Overall, it may be January. But this is easily going on my list for favorite reads of 2014. It was just so good. The characters have such vast personalities and they are quite lovable. The story surpassed my expectations and more. I happily have my copy of Forty 2 Days which I will be cracking open tonight. Thank you Le Carre for not having us sit on that ending. It would have drove me over the edge. It isn't a cliffhanger ending, but more of a "shit just hit the fan" kind of ending. This book will put you at the edge of your seat. I am officially hooked. Do not miss this read, you will regret it.
Rating:
*This book belongs to the following challenges*
The Book Vixen's 2014 Contemporary Romance Reading Challenge
The Book Vixen's 2014 Outdo Yourself Reading Challenge
*********************************************
About Georgia Le Carre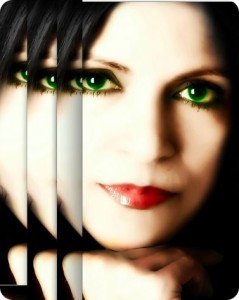 Connect with Georgia Le Carre here:
*********************************************
The Billionaire Banker Blog Tour Schedule
*********************************************