Author
: KaSonndra Leigh
Series
: A Musical Interlude
Number in Series
: 1.5
Format
: ARC ePub (Netgalley)
Release Date
: April 22, 2014
Pages
: 305
Publisher
: TriGate Press
Genre
: Contemporary Romance/Erotic Romance/New Adult
Buy here:
Amazon
Synopsis from
Goodreads
His goal…One night with the ballerina.




Her goal…To beat the player at his game.




The outcome...Something completely unexpected.





Adriana Dostov pegged Luca Martuccio from day one: gorgeous, talented, arrogant, a man who has had difficulty committing to one woman in the past. He is known in fashion circles as the player with a scandalous history. So when the girls in her ballet troupe suggest she gives up her virginity to him, she doesn't say no. But she's not sure that a 'yes' is the right answer either. Yet, she can't stop herself from making the offer...a one night stand in Venice.





Luca wanted fiesty little Adriana the moment they first met - and he fully intends to have her, hence why he's agreed to accept her proposal. In the end, he'll get what he wants. No commitment. All sex.





But, as Luca discovers, there's more to the ballerina with the overbearing mother - and he can't help but care about the frightened girl behind those sad eyes.





Adriana discovers Luca isn't just walking sex on a stick - he has a wildly passionate side, a lost soul who has suffered just as much grief as her. And it could be, they're exactly what the other one needs.
*********************************************
*********************************************
An Aria In Venice Playlist
Wherever You Will Go by Charlene Soraia

Die Without You by PM Dawn

Ritorna A Me (Return to Me) by the Rome Session Singers

Cry Me A River by Justin Timberlake

Remember How I Broke Your Heart by Priscilla Ahn

Cascade by Hyper (Club Scene Song)

Falling by the Civil Wars

A Forest feat. Marina Celeste by Nouvelle Vague

My Skin by Natalie Merchant

Until the End by Norah Jones (The way Luca feels about Adriana)

Girl With the Red Balloon by the Civil Wars

Sour Times by the Civil Wars

Just A Fool by Christina Aguilera

You Lost Me by Christina Aguilera

Never Think by Rob Pattinson
*********************************************
An Aria in Venice is a standalone story in the A Musical Interlude series. This story follows Alek's younger sister, Aria (aka Adriana). In the first book, The Prelude, we follow the growing relationship between Alek and Erin. This story is all that is happening to Aria while Alek is chasing Erin. I really loved this because while reading the first book, I knew something was going on with Aria and I was so curious. I am glad Leigh sated my curiosity. I loved Aria in the first book and I love her even more now.
I loved Aria in this book. She is the sheltered little sister of Alek and she can't take it. Everyone treats her like a doll and she can't take it. It is now time for her to go out and get what she wants. She wants to officially become a woman by finally getting rid of her virginity. She is being pursued by Luca, Erin's boss, who does get around. He invites Aria to stay with him in Italy to visit his family. While they are together in Italy, Aria finds that people have been wrong about Luca. She learns so much about him and his family, more than she thought possible. What was supposed to be a little ruse between them becomes something more.
If Luca has a doppleganger walking around anywhere, please send me an email. I loved him. I wasn't so sure about him before. He just bounced around a lot and didn't seem to care much about much else. I loved that Aria gave Luca a chance. They both wanted to use each other, but I love where it went. Luca was just mouthwatering. I could read his scenes again and again. I loved them. Next to my insane love for Luca, I loved the characters all round. They are so well put together and they are all so complex. Some of those complexities leas to a few twists in the story as well. I was so happy to dive back into this world again and read about these incredible characters again. They are unforgettable for me. they really are.
The story was such an eye opener. I love how Aria goes from being a girl trapped under her mother's thumb to a woman with a spine. The connection they had in Italy really steamed up my ereader, let me tell you. I loved how Aria connected with Luca's family specifically Luca's mom. His siblings were torture. I won't tell you why, but there is a lot of hurt in this family. I love that this story was about more than just Aria and Luca getting together, but them resolving some very deep issues, Luca more than anyone.
One thing that did drive me crazy was Nikolai. Nikolai is Alek's best friend and he protects Aria. He is also in love with her. He doesn't want to let his feelings be known because she is his best friend's sister. When he has the chance to be with her, he doesn't take the chance. The way he handles the whole situation made me so mad. I just couldn't believe him at time. I didn't hate him, but I definitely wanted to punch him. They definitely have a history and I could have seen them together, but man. It drove me nuts and Aria's mother didn't help. I couldn't believe that woman especially near the end of the book. Again, this is why I love that Aria has grown so much in the book. She really stood up to her. I was so proud.
This was an incredible read. I loved this book as much as the first one. I was dying to read things from Aria's side because I knew it would be interesting. It was that and more. This story can be read as a standalone, so reading the first book isn't necessary, but do it anyway because it was awesome. Leigh has such an engaging style. Once you start, you simply can't stop. She will make you laugh, cry, pull your hair out, and set you on fire. If she isn't on your must-read list, she should be. I can't wait for book two in this series. This is definitely a favorite for 2014. Leigh you have done it again. Highly recommended for anyone looking for a beautifully written and emotional coming-of-age story that will leave you fanning yourself.
Rating:
*********************************************
Check out my 5 star review for book 1:
*********************************************
About KaSonndra Leigh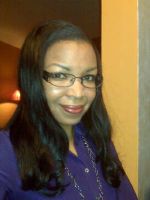 Author of the Lost Immortals Saga and the Seraphine Trilogy. I'm also a mother, blogger, reader, gardener, home renovator, and a slayer of Egyptian mummies in Tomb Raider. I believe in karma, coffee, and seriously wish that the producers of Xena would bring my favorite show ever back.
Strange things about me: everything. I am strange, odd, unusual, and generally tend to make people think I swooped down from another planet. I don't know. Maybe I did. Who knows? I'm also a member of the #zombiesurvivalcrew on twitter. So if you need protection from the undead then don't hesitate to call on us.
I was born in the race-car city of Charlotte, NC, and now live in the City of Alchemy and Medicine, NC, when I'm not hanging out in Bardonia (Lost Immortals). Most of my characters are based on people that I've met throughout my travels and adventures. People tend to stop and start conversations with me as if I've known them my entire life. Does this freak me out? Not really. My mom says that one day I'll get kidnapped by one of them. I told her that if it weren't for these lovely people then I wouldn't be able to create the stories that I do.
I have many favorite authors but there are some who truly rock my socks: Octavia Butler, Anne Rice, Kami Garcia, J.K. Rowling, Dean Koontz (on his good-book days), Stephen King (same as DK) Ann Radcliffe, Mary Shelley, Elizabeth Kostova, and so many more...
Some other common tidbits...hmm. I've watched the movie Under the Tuscan Sun almost 200 times. Seriously, the way I see it is if I keep watching it enough, then suddenly the house that Diane Lane lives in will magically appear in my backyard. I know. I have a huge imagination!
Follow KaSonndra Leigh here
: