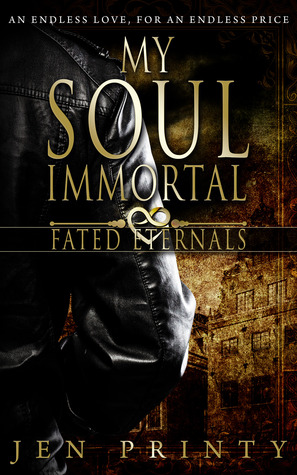 Series

: Fated Eternals
Number in Series

: 1
Pages: 258
Release Date

: February 15, 2014
Publisher

: Red Adept Publishing
Genre

: Paranormal Romance/Urban Fantasy
Buy here:
An endless love, for an endless price.

Jack's immortality is exposed when he prevents a liquor store heist, forcing him to flee to protect his secret—a secret not even he understands. But when he meets Leah Winters—a mirror image of his decades-lost love, Lydia—his very soul is laid bare. He begins to question his sanity. Is she real, and if so, what does that mean for Jack and his secret?

Jack's not the only mystery man in town. A stranger named Artagan hints at knowledge Jack is desperate to possess. But can he trust Artagan, or does the dark newcomer harbor deadly secrets of his own?

As Jack's bond with Leah grows, so does the danger to her life. Jack must discover just how much he is willing to risk in order to save the woman he already lost once.
*********************************************
My Soul Immortal is my first read from Jen Printy and this won't be my last. This was a great read. I loved this read. Our main character Jack was a blast. He really cracked me up. He is 100 years old and he is immortal. He doesn't know what he is or he got to be this way, but he hates it. He wants to die so he can be with the woman he loves, but he can't die. I loved that this book took a different approach to immortality. I like that we are kept in the dark about what Jack is. It added a lot of mystery and anticipation for me. I also love that even though Jack is 100 years old, he still thinks like how he was back in his time. He is not a fan of electronics. They make him space out. It just cracked me up because he looks 20, but he really has an old soul and it showed.
I loved how the book opened with a bang. Something happens that forces Jack to leave the city of LA for Portland. His move brings him in contact with a woman named Leah that is a splitting image of the love of his life that he lost. He can't believe he has met someone that looks like his lost love, Lydia. He may be immortal, but he has no idea how to talk to a girl. One day he is still thinking about her when he comes across a man at a bar. This man seems to know what Jack is, but Jack doesn't trust him. Strange and/or dangerous things seem to take place when he is around. He just calls him the blue-eyed devil and he tries to stay clear of him whether he has answers or not. But the blue-eyed devil also seems to be aware of Leah. Jack doesn't like that at all.
This story was amazing. I love the Paranormal Romance. Jack and Leah had a rough start mainly because of Jack. He seems to have major panic attacks in her presence. I love the connection between them and the little bit of tension they had. They were amazing together. I loved this story. Printy really knows how to build memorable characters and a memorable world.
You have to read this book. There is a lot of mystery and creativity. I love Printy's take on reincarnation. It was really easy to get lost in this story. It kept me on the edge of my seat. I love Printy's style. This book was well written and the mystery was amazing. This book will reel you in from the first page. You won't want to put it down. Huge thanks to Red Adept Publishing for another amazing read. Highly recommend this read for Paranormal Romance fans that want a little extra mystery.
*********************************************
*********************************************
GIVEAWAY TIME!!!