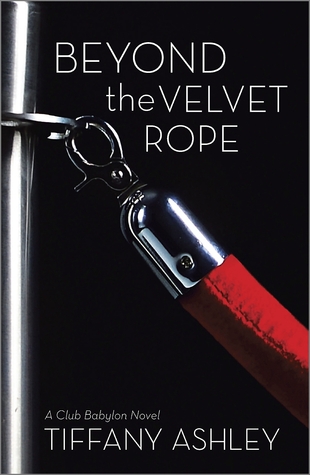 Release Date

: June 24, 2014
Publisher

: Harlequin Kimani Press
Genre

: Contemporary Romance
Synopsis from Tiffany Ashley
Welcome to Club Babylon: where the A-list VIPs come to play
Scoring a gig at Miami's Club Babylon is a fantasy come true for New York promoter Thandie Shaw. The hottest club on the strip is a magnet for major South Beach movers and shakers. And Thandie's about to meet the biggest player of them all.

Babylon owner Elliot Richards is macho, arrogant, sexist—everything Thandie doesn't want in a boss or lover. Elliot is also the most erotic man who's ever wanted to take her to bed. But Thandie's no fool. Even as he tries to seduce her into a world of intense and shocking passion, she knows it's too good to last…especially after she uncovers Elliot's explosive secrets.

Thandie's going down a dangerous road, and she's risking a lot more than her career. Torn between doubt and desire, will she have to pay the ultimate price?

Darkly sensual and deeply moving, Beyond the Velvet Rope takes you into a world of uncontrollable desire and unexpected consequences.
Buy here:
Series

: The Original Sinners
Release Date

: June 24, 2014
Publisher

: Harlequin Mira
Genre

: BDSM/Contemporary Romance/Erotic Romance
Synopsis from Tiffany Reisz
In the beginning, there was him.

Gutsy, green-eyed Eleanor never met a rule she didn't want to break. She's sick of her mother's zealotry and the confines of Catholic school, and declares she'll never go to church again. But her first glimpse of beautiful, magnetic Father Søren Stearns and his lust-worthy Italian motorcycle is an epiphany. Suddenly, daily Mass seems like a reward, and her punishment is the ache she feels when they're apart. He is intelligent and insightful and he seems to know her intimately at her very core. Eleanor is consumed—and even she knows that can't be right.

But when one desperate mistake nearly costs Eleanor everything, it is Søren who steps in to save her. She vows to repay him with complete obedience…and a whole world opens before her as he reveals to her his deepest secrets.

Danger can be managed—pain, welcomed. Everything is about to begin.
Buy here:
*********************************************
About Tiffany Ashley
About Tiffany Reisz
*********************************************
GIVEAWAY TIME!!!

*********************************************