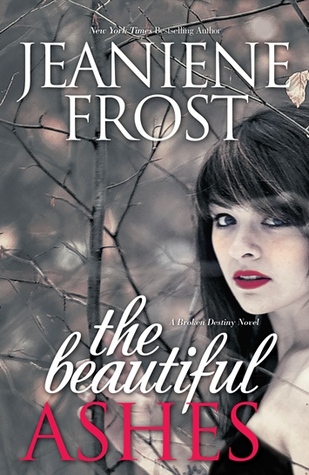 Series: Broken Destiny
Number in Series: 1
Release Date: August 26, 2014
Publisher: Harlequin
Genre: New Adult/Paranormal Romance
Synopsis from Jeaniene Frost
In a world of shadows, anything is possible. Except escaping your fate.
Ever since she was a child, Ivy has been gripped by visions of strange realms just beyond her own. But when her sister goes missing, Ivy discovers the truth is far worse—her hallucinations are real, and her sister is trapped in a parallel realm. And the one person who believes her is the dangerously attractive guy who's bound by an ancient legacy to betray her.
Adrian might have turned his back on those who raised him, but that doesn't mean he can change his fate…no matter how strong a pull he feels toward Ivy. Together they search for the powerful relic that can save her sister, but Adrian knows what Ivy doesn't: that every step brings Ivy closer to the truth about her own destiny, and a war that could doom the world. Sooner or later, it will be Ivy on one side and Adrian on the other. And nothing but ashes in between…
*********************************************
Jeaniene Frost writes a New Adult book? SOLD!!! I have to say I didn't even bother reading the synopsis before downloading this. If Frost is writing, you bet I will be reading. She is one of my favorites and with this book, she continues to be a favorite. I want more now.

We follow a young woman named Ivy who is on a rescue mission. Her sister has disappeared and she needs to find her. I loved Ivy's determination from the get go. She wasn't waiting around for the cops to do find her and for good reason we soon find out. While on the mission, Ivy experiences one of her hallucinations. She has been having them ever since she was a child, but this one shows her sister trapped in an alternate world. Ivy discovers that she may not be as crazy as everyone around her says that she is. That starts with the help from Adrian. Someone who sees what she can see and who is willing to help her on her quest. But, at what price?

As I have said, Frost is one of my favorites. She has written one of my favorite paranormal romance series featuring one of my favorite paranormal romance couples. But the tone in this book isn't as focused on romance as I expected. Oh no, Frost has something different up her sleeve. One of the best things about this book is the world-building. Frost has taken stories from the Bible and given them a new light. I loved what she has created here. It is simply brilliant. Ivy and Adrian are on the hunt for a weapon we have all heard of (won't say what) and Ivy is the only that will be able to sense it and use it. Sadly, searching for it is a problem. Adrian knows that it is in a demon realm and only he can take Ivy through the realms to find it. They spend so much time together and we soon learn they have a lot of history. Well, their ancestors did and boy what a history it is. Again, I love what Frost came up with here.

I loved the connection between Ivy and Adrian. They have chemistry from the get go. Ivy is smart and sassy. She also has a great sense of humor. I would have liked to understand her more before her world went upside down though. She was always talking about how she always had to fake being happy around people before she lost everything. Was that just her personality or was it because of the things she saw? I also really enjoyed Adrian. Given what we know of his history, you will be skeptical about him at times though. But I loved how he was always at Ivy's side even if she drove him crazy (for various reasons). I love the buildup with them. Ivy slowly uncovering things about Adrian and whether she can trust him because of his secrets. Like I said, there are some big ones.
The pacing of the story is well done. I love Frost take on angels vs. demons (well Archons vs. demons). She gave the right amount of romance, humor and action. I love the chase throughout the book with not only the hunt for Ivy's sister, but for the weapon that can kill the demons. I loved the descriptions of the realms. They really will creep you out and gross you out as well. That first one was enough for me.
This is a great start for a new series from Frost. I am such a huge fan of Frost's work. She always gives me a world I could get lost in for an afternoon of two. I couldn't put this book down. The mystery and the world had me so engrossed. I am super excited for more of this series. There are plenty of things I still want to know that I hope we get answers to. But there are no cliffhangers here though, just a clear indication that Ivy and Adrian have quite a journey in front of them. I will be there rooting for them every step of the way.
*********************************************
About Jeaniene Frost
*********************************************