Authors

: Imogene Nix, Ashlynn Monroe, Jaye Shields, and Beth D. Carter
Release Date

: October 20, 2014
Published by: Beachwalk Press, Inc.
Genre

: Futuristic Romance/Science Fiction
Cover Design: Fantasia Frog Design
TANGLED WEBS by Imogene Nix

In the course of a single day Gia Montgomery loses her job and discovers that her boyfriend—now ex-boyfriend—is a two-timing sleaze. After downing a bottle of wine, she catches sight of Cedun in her backyard. He's the Ba'Tua heir who has been living on Earth for several years. Gia struggles to ignore the strong attraction between them, because she's sure he's seeing someone else. Someone very close to her, in fact.

When the situation with her ex turns nasty, Cedun finally has a chance to set things straight between himself and Gia, but nothing is as simple as it seems. Cedun must protect Gia and sort out an impossible love-life tangle before it's too late.

Content Warning: this title contains sexy aliens and feisty heroines, together with enough action—of every kind—to keep readers on the edge of their seats


THE SPACESHIP CAPTAIN'S WIFE by Ashlynn Monroe

Some treasures are the hardest to see.

On a dying planet, treasure waits for an honorable man to claim it. Captain Ric Julius believes the cargo of gems is what he's come for, but there is one jewel he never expected. Her name is Kateri, and she changes everything.

Saving the woman's life, and making a fortune in the process, requires only one thing of Ric—his freedom. In order to obtain the gems he has to agree to take Kateri to safety…and to make her his wife. Every man has a price, but is Ric willing to pay in full on a debt he owes to a dead man on a decomposing world?

Content Warning: contains sensual sex scenes


HIS HUMAN by Jaye Shields

Can a human clone trained to kill also learn to love?

Elara Roberts is the captain of a space shuttle sent to retrieve a group of cloned soldiers from the planet US-2. As soon as she lands, the shuttle is overtaken and all of her men killed.

Svarog aka Rogue, is the leader of a rebel group of clones who desire freedom. He's been trained his entire life for one thing—to kill. But when he lays eyes on Elara, the only woman he's ever seen, his first instinct is to love. Taking her for himself, his new mission becomes exploring the body of the creature, and punishing any other clone male who dares come close.

Elara witnessed how easily Rogue killed her men and fears she is next. But instead, the beast seems curious and more lustful than anything else. Her best survival strategy is to play along. But when she gets a chance to escape she realizes she may not be ready to leave Rogue behind.

Content Warning: this story includes a deadly, devastatingly sexy clone who isn't above foul language and dirty sex


GRAVITATION by Beth D. Carter

Can Bree and Niah's love overcome their species being at war with one another?

Bree has spent her whole life hiding from the aliens who destroyed what was once Earth. When she stumbles across a wounded alien, common sense tells her to kill him before he can kill her, but her compassionate side refuses to obey. Instead, she helps him.

The two forge a temporary truce when they're forced to band together for protection. But as the days slip by, the alien Niah won't leave her, and as friendship gives way to something more, she can't help but wonder when, or if, them being on opposite sides will break the fragile bonds of love forming between them.

Content Warning: contains sexual content, strong language, and some violence
*********************************************
Excerpt
HIS HUMAN EXCERPT:
"

Why do you want to go to Earth so bad?" Elara asked.
Rogue didn't answer readily, instead, he appraised her, his gaze lingering on her sweat-soaked blouse. "You haven't been here long, woman, but surely long enough to see this planet rivals the hell that the humans make us read about. It's dry here, hot enough to melt the skin right off your body during certain seasons. Those tunnels you saw dotting the landscape, those were burrowed by one of US-2's many creatures. Leave my side, and they'll snatch you up and swallow you whole. It'd probably be an easier death than you deserve."
"

Excuse me?" Elara glared at him. "Did you keep me alive to insult me to death?"
"

Why would you sign up to take men as slaves, take them to a war they can't even understand?"
"

I'm not the bad guy here!" Her voice echoed through the cave, the sound suddenly making her feel more brave.
"

Neither am I. Unless I'm crossed." He stood, still nude, his well-muscled body towering over her. "Now that you're my captive, perhaps you can appreciate what we are fighting for. Freedom." With that, the clone walked away from her. She glanced away, trying to avoid looking at the well-carved butt cheeks as the massive soldier walked away. He had a perfect body. The kind of body that was built to kill.
Elara's mind spun. Not only had two clones tried to rape her, but her epic plan to seduce Rogue didn't work. He'd never before had a woman, and she still couldn't please him. Yet he'd protected her from those men.
As far as Rogue was concerned, she wasn't sure what happened. He'd seemed so close to coming. He'd moaned, but then he'd been disgusted by her, shoving her away. She should have been happy that his cum didn't fill her mouth, but it also meant her death.
But if he was going to kill her, why didn't he just leave her to those men?
Finally alone, the terror of the day washed over her. She'd watched her peers murdered, she'd gone down on her captor, and she'd nearly been raped by two killers. Tears leaked down her cheeks, quickly dried by the intense heat on US-2.
Just as soon as he'd left, Rogue returned. His strong hand pulled her out of the fetal position to face him. When he saw her tears, he sneered in disgust. "I'm leaving to retrieve rations. Don't try to escape."
Hope bloomed within her. Of course she'd try to escape. Was this clone daft? She just never thought she'd be left alone to try.
Elara thought back to the initial attack on the space shuttle. The interior had sustained damage, but clearly the clones had been careful, obviously planning to try to take it to Earth themselves.
Rogue pulled on his military cargo shorts, not bothering with a shirt. He pulled a sachet of lotion out of his pocket and slathered it over his hard chest and chiseled stomach. It was a body meant to punish.
She barely heard Rogue's final warning before he departed. Something about danger. Duh. Elara may have been surrounded by a planet of rebel clones, but she was a military captain, specially chosen for this very mission. Her femme fatale Plan A had failed, but now she had no other choice but to try to ass kick her way off this planet. She was sure as dead anyway, might as well die trying.
*********************************************
About Imogene Nix
Imogene is a mother of two, compulsive reader, and bookstore owner. She lives in regional Queensland, Australia with her husband, two daughters, dog, cats, guinea pigs, and chooks. She has a particular fondness for vampires, star ship captains, and things that go bump in the night (especially vampire types).
Imogene has tried many varied roles in her working life including kindergarten assistant, teacher, principal, and kindergarten and child care director, but rates owning a bookstore and writing her own novels as the absolute highlight.
In her mother and wife alter ego, she has traveled widely and lived in some very unique places including Far Western Queensland, Cape York, and even Tasmania. She loves to travel and rates China and Hong Kong among her favorite destinations.
About Ashlynn Monroe
Ashlynn Monroe is a busy working mom. She loves her kids and family. Her greatest joy is creating stories to entertain others, and she hopes they bring a little more romance into the world. She's been writing since her teens, for her own enjoyment, but decided in her thirties to share her imagination with readers. Ashlynn enjoys biking, camping, reading, video games, and filling her home and life with love. If she's not working or chasing her children, you can find her daydreaming up her next tale of romance.
Follow Ashlynn Monroe here:
Facebook | Twitter | Website
About Jaye Shields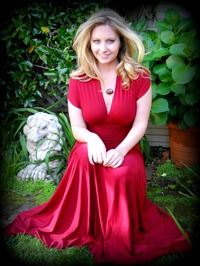 Follow Jaye Shields here:
Facebook | Twitter | Website
About Beth D. Carter
Follow Beth D. Carter here:
Facebook | Twitter | Website
*********************************************
Sex, Love, and Aliens Release Day Tour
*********************************************