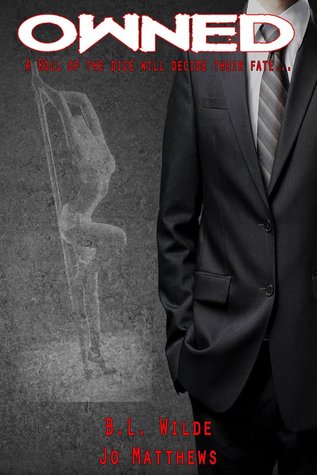 A

uthor

: B. L. Wilde & Jo Matthews
Release Date

: December 5, 2014
Pages

: 95
Cover Artist: Jo Matthews
Publisher

: Self-published
Genre

: Crime/Erotic Romance
Goodreads
Synopsis from B. L. Wilde
Ryan Lawson has

almost

everything he wants. A Capo to the Mafia Valenti Family, the world is at his fingertips and the ladies all drop their panties at his signature smirk. All but one, anyway, and she happens to be the

only

one he wants.
On the run from a horrible past, Trixie finds herself accepting a job as an exotic dancer in a club run by the mafia. Left without a choice, she begins to date the Boss' son while lusting after someone else.
Everything changes when Ryan is offered a chance to win a weekend with the woman he desires. All he has to do is roll the dice. The rest is up to fate.

What will happen when their worlds collide? Will a mutual attraction turn into something more? Or will the dangers they face be enough to keep them apart for good?
*********************************************
Owned is a story about a woman named Siena. She is desperate for money and ends up taking a job at a Gentlemen's Club named "Cherries". Siena (aka Trixie for the club) needs to raise money fast so she can disappear for good. While working there, she notices her boss's closest men, Tony and Ryan. Tony is the boss's son who is a spoiled brat and a creep. Ryan is Tony's friend and someone Siena is attracted to. She soon stumbles on to the fact that they are both in the mob and steers clear of Ryan after witnessing him at "work". After a stupid bet is made, however, she finds that her judgement may have been off.

What a collaboration. Wilde and Matthews are quite a team. Wilde is already on my must read list. If her name is attached, I will be reading no matter what. I have read one work by Matthews and liked it a lot. So I was super excited to read this and it didn't disappoint. This was a steamy read that had me begging for more.

Siena (Trixie) is a very interesting lead. I loved her backstory. It showed that she is quite a survivor. She seems like she has her head on shoulders. When she witnesses Ryan, club manager, beat up a man in the alley along with some buds, she knows she has to fight the attraction she has to him. She stays away, but this sadly leaves an opening for Tony. Tony is awful. While reading what he says and the things he does, he comes off more like teenage boy than a man. But he is a mob boss's son and this makes pretty much makes him invincible and he knows it. He nabs Trixie as soon he can because she is something new for him and it will piss Ryan off.

It is obvious Tony is jealous of Ryan. Tony's father seems to favor him more and they aren't blood. Tony ends up screwing up a deal and Ryan saves him. As a reward, Tony's dad gave Ryan a brand new car. Tony wants that car very badly. I loved how Ryan handled this. It showed how different him and Tony are. Tony treats Trixie like crap and Ryan is always watching out for her and doesn't want her hurt at all. I hope we get more of them and I want to see how it will happen. They seem to fit each other so well. I love how Trixie wants to be herself with Ryan. She wants him to call her by her real name, Siena.

I loved Ryan and Siena together. When they are together, sparks don't fly, they explode. It was amazing. Ryan was more incredible than I thought. His attraction to Siena means more than he realizes and I can't wait to see him realize it. It will be a great moment. I need more of these two like yesterday. Matthews and Wilde did a great job. This is a collaboration worth fangirling over and I am. I can't wait to see what happens next. This story was short (which killed me), but was very steamy. It was a tad strange with the time jump I'll admit. Things happened in that time I would like to understand more. But still, it doesn't distract from the story. Overall, this is a read you devour. It is a great start to a new series that I want more of right now. I would love more backstory from our characters to really understand them and their choices specifically with Siena. It will be great to get deeper into this world again. I definitely recommend this read.
About B. L. Wilde
B.L. Wilde is a British author obsessed with many things, including heated love stories. Fully supported by her husband, she can often be found at her desk working on her next project.

Her journey into the world of erotica began when she started writing online stories over three years ago, and she hasn't looked back since.


Connect with B. L. Wilde:
About Jo Matthews
Jo Matthews is an Arizona native, where she lives with son. A stay-at-home mom since 2007, she only recently discovered her love and passion for the written word. When she's not writing, she's usually knee deep in editing—an aspect she thoroughly enjoys.
As an editor, she has propelled quite a few authors into the published world, and with her skills, has landed several stories on Amazon's Top Sellers lists.
Connect with Jo Matthews here:
*********************************************