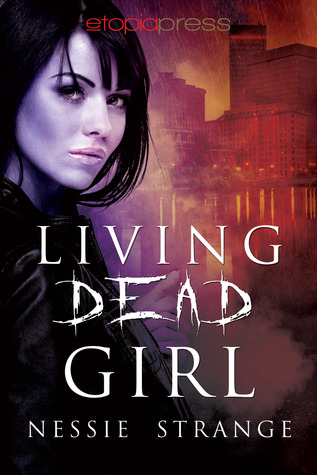 Author

: Nessie Strange
Series

: Living Dead World
Number in Series

: 1
Pages: 234


Release Date

: May 28, 2014
Publisher: Etopia Press


Genre

: New Adult/Paranormal Romance/Urban Fantasy
Synopsis from
Goodreads
Jen MacLellan has hit a dead end...
Jen knows tattooed, blue-haired Jack Norris is trouble the minute he opens his front door. And being a mortician in the avante garde East Side of Providence, Jen has seen a lot. Jack has recruited Jen's teenage brother Drew to play drums for his less-than-respectable punk band, and Jen has no choice but to follow their gigs to keep her little brother out of trouble. But when Drew goes missing, she finds herself in the awkward position of asking for Jack's help. Shocked that he agrees, Jen decides she may have misjudged him. Worse, she might even like him.
But when Jen is brutally attacked, she awakens in the hospital where a Sid Vicious look-alike greets her with the news: she's dead, and he's the reaper assigned to take her away. Yeah, not so much. Refusing to leave, Jen's spirit watches helplessly as her loved ones suffer, powerless to ease her family's grief or prevent the police from accusing Jack of her murder. Desperate to help them, Jen convinces the reaper to bring her back. But reanimating corpses isn't as easy as it looks, and neither is finding a killer before it's too late...
*********************************************
Living Dead Girl is a story about a young woman named Jen with a very interesting job. She is a mortician who works with her dad. Things are going fine at home except her brother seems to be getting himself into trouble. One night when trying to get him out of trouble, she meets a man named Jack. Jack seems like someone who is bound to get her and her brother in all sorts of trouble, so she instantly hates him. But things change when she realizes she misjudged him. They fall in love, but it not everyone is happy about it. Someone is after Jen, but she has no idea how bad it is until it is too late.
Holy crap, this quite the read. Once I started this book, I couldn't put it down. I finished it in a day. Once I saw that this was an Urban Fantasy book, I jumped at the chance to read it. But the first half of this book feels more like a Contemporary Romance. I don't mind that because this was still amazing.
Jen was a great leading character. She is strong and doesn't take any crap. She is obviously the head of the house. Her father isn't the disciplining type and her brother is in his rebellious stage. She is there to protect them both. She lives a very strict and very predictable life (uptight really)...until Jack. Oh my goodness, I loved Jack. I want to marry Jack. He is funny, full of charisma, lovable and just all around amazing. It was amazing seeing how much he loved Jen. Jen is already with someone (who I couldn't stand from the very beginning). Jen is so strong, so it baffled me how she allowed her boyfriend to treat her in this book. The chemistry between Jen and Jack made my ereader steamy. I loved seeing the journey of them getting together, Jack never gave up on her even though he wasn't sure about how she would feel about him.
The story is quite an interesting one. It takes so many different turns you just don't see coming. Like I said, the first half of this book feels like a Contemporary Romance. Then it goes into Urban Fantasy territory. Something tragic happens to Jen and it changes her life for the worst, But even then, she is not going to let anything stop her from being with Jack. This book will take you through so many emotions. You will feel the desperation and panic of Jen and the love she has for Jack. She will do anything to help and protect him. She knows she is the only one that can and she will do whatever it takes.
I can't believe where this book went. I didn't see that coming. All characters play quite the role especially PJ, her best friend. Wow, just wow. I have no words, but just know you will be floored where she is concerned. This book will anger you in the best way. The emotions, oh the emotions. It was too much. This is my first read from Strange and I plan on reading everything she will ever write or has written, Her storytelling skills are out if this world. She knows how to connect with the audience and make our imagination go wild. This was such a creative read, it made me fall even more in love with it. This was another great read that I just got lost in. I already have book 2 which I intend to start pronto. Highly recommend this read to anyone looking for something different and addictive. Trust me, it is an addictive read.
Rating:
*********************************************
Series

: Living Dead World
Release Date

: November 21, 2014
Publisher: Etopia Press
Genre

: New Adult/Paranormal Romance/Urban Fantasy
Synopsis from
Goodreads
This isn't the afterlife she expected...




Jen MacLellan can't get the hang of being a reaper. She's been separated from Jack, the man she loves, and is stuck with an annoying telepathic link to her ill-tempered mentor, Sam. Now Death is breathing down her neck, promising to remove that annoying link if she gives him what he wants. But when reapers begin to disappear back on earth, leaving behind walking, talking dead people, Jen and Sam are thrust into a dangerous mission to recapture the souls, and a passionate physical relationship that complicates everything.




Jack Norris has no memory prior to waking up on the half-demon Nulcifer's couch six months earlier. As he begins to investigate his past, he discovers a string of past lives tied together by a beautiful, mysterious brunette. Who is she? And why does finding her seem like a life or death proposition?




When Sam falls victim to fate during a routine visit to earth, Jen's devastated. Desperate to get him back, she runs smack into the man she never thought she'd see again—Jack. She tries to keep her distance, but there's no time to be awkward if they want to save Sam. When sinister plots are revealed, and betrayals threaten everything, she's forced to make some tough choices—and learns that life is just as difficult when you're dead.
Buy here

:
All Romance Ebooks | Amazon | Barnes & Noble | Etopia Press | iTunes | Kobo
*********************************************
EXCERPT
Sam wasn't kidding when he said I had no idea what I was getting into. And now, as I stared Death in the face—literally—from an uncomfortable black leather executive chair, it occurred to me for the first time that I was in way over my head. Between the pinstriped suit and dark, slicked-back hair, he resembled a character from The Godfather more than a deity who ruled over the dead and dying. Death was one scary motherfucker. And he was smiling.
"Care for a drink, Jennifer?"
I shook my head, but he rose anyway, retrieved two glasses from the cabinet behind him, and filled both with amber-colored liquid. "Relax, I'm not going to bite."
That wasn't what I was worried about.
"Now, how long have you been with us? About six earth months?"
I cleared my throat. "Ah yes. About that long."
"I find it intriguing," he said. "You have been telepathically linked to one of my reapers this entire time, yet you really demonstrate no capability when it comes to this job. One would think that would give you an edge, hmm?"
"You'd think," I laughed. OK, I sucked at it. It was only recently I'd been allowed to travel back to earth to help retrieve souls. Sam did most of the work, while I trailed behind, like one of those ankle-biting little purse dogs. What I wanted to know was why he'd insisted I do the job in the first place. I'd never asked to be a reaper. It wasn't like I wanted this.
"The occupation listed from your most recent incarnation on earth was a mortician, was it not? So you should be accustomed to working with the deceased and the sensitivities that go along with it."
"These two jobs are absolutely nothing alike." Shit. I'd reacted again, lost my cool because of something he said. Now that my brain had caught up with my mouth, the fire snuffed out and with it went my nerve. I needed to learn to bite my tongue. Considering the habit crossed over with me from my last life, maybe that was wishful thinking. "Well, I mean, because when I was a mortician, those people didn't talk back to me."
Death studied me. "No, I don't imagine they did." He scrunched his lips up, his brow furrowed—the only hint of emotion I'd seen from him—but it quickly faded. "What exactly is it that's holding you back or hanging you up? I'm just trying to understand here."
"Well, I guess some of it is that I feel bad for them. I want to make things easier, but Sam's all about scaring them and intimidating and manipulating them. It doesn't seem right. I mean, we're their first point of contact with the afterlife; why does it have to be frightening?" I was doing it again. OK, I needed to breathe. "I just… I see the fear in their faces, and it tears at me. It doesn't feel right. It's not me."
*********************************************
About Nessie Strange
Nessie is a Massachusetts native and mother of two who has dabbled in everything from abstract painting to freelance sports reporting. She also loves a good story, whether it's reading or writing one. Living Dead Girl and Reaper Madness, the first two novels in her urban fantasy Living Dead World series, were published by Etopia press in 2014.
Follow Nessie Strange here

:
Amazon | Blog | Facebook | Goodreads | Pinterest | Twitter
*********************************************