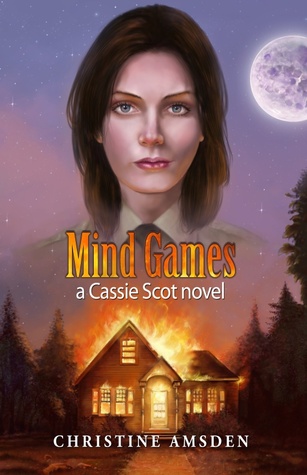 Author
: Christine Amsden
Series
: Cassie Scot
Number in Series
: 3
Format
: Paperback
Release Date
: June 15, 2014
Pages
: 274
Publisher
: Twilight Times Books
Genre
: Mystery/New Adult/Paranormal/Urban Fantasy
Buy here:
Synopsis from
Goodreads
Beware your heart and soul…

Evan broke Cassie's heart two months ago, and she still doesn't know why. She throws herself into family, friends and her new job at the sheriff's department, but nothing helps. The only thing that finally allows her heal and move on is the love of a new man, mind mage Matthew Blair. Cassie finds him... irresistible

Matthew may also be the only one who can help keep the nonmagical residents of Eagle Rock from going crazy over the murder of a beloved pastor's wife. It looks like a sorcerer is to blame, but while Cassie tries to figure out who, others take matters into their own hands. With tensions running so hot, a single spark might set Eagle Rock ablaze.
*********************************************
I am so in love with this series. It gets better and better with each book and this was no exception. Cassie is as brave and stubborn as ever. She has learned more than her fair share in the last book. Now she is surrounded by people that either want to use her or kill her. There is a pastor preaching a hate message about those with magic in the town and things are getting even more tense than usual. Worse yet, someone has killed the pastor's wife which has put fuel on the fire (no pun intended). Cassie now is in a world of trouble trying to crackdown on who it is and making sure the ones closest to her don't take the fall.
This book is going to be very hard not to spoil. So much goes on throughout the series and it is continuing to build like crazy. Cassie has made some discoveries about her past in the last book and is working on trying to cope with it. Cassie is also trying to cope with leaving behind Evan. Evan has left her because of her father who still hates him and his family. Evan knows something he can't tell Cassie and is trying to protect, but it is very hard. But Cassie is trying to move on and so she is now dating someone else named Matthew. Matthew is the state senator and he also has a knack to read everyone's mind. I wasn't sure if I liked him or not. After everything Evan and Cassie have discovered about what happens to women with a trace of magic, I was suspicious. As you can imagine, so was Evan. His jealousy is instant. I couldn't blame him. I am an Evan fan, so I felt his pain. Cassie doesn't know what his deal is, but Evan can't possibly let her know what he knows.
I loved all the action and the tension Amsden added in this book. The magical community versus the religious community was incredibly intense. Cassie is investigating the death of David from the last book. His death is quite a mystery and no one is absolutely sure about how he died and no one cares to find out given what the man did. Her investigation leads her to a church she wished she didn't have to visit again. The pastor, Pastor Roberts, does nothing but preach hate about the magic users (or witches) in their town and it starts to make people very crazy. While during this speech, the pastor's house blows up with his wife inside. Cassie needs to get to the bottom of it and has a feeling there is a connection somewhere, but she has to find it. Sadly though, it seems there are some politics at play. The pastor along with Cassie's father and Matthew and his father are all working on how to find the culprit, but in their own way. I love that with everything going on, Cassie keeps her wits about her. She is such a resilient character. She always has her head on straight, well, fore the most part. There are times in the book when her brain is on the verge of an idea or a thought and she can't figure it out, she can never complete it. It is like something is blocking her mind.
This is a great series. It is perfect for both supernatural and mystery lovers alike. I have said it before and I will say it again, Amsden ability to mix both of the worlds is just brilliant. Her characters are easy to love especially Cassie. Cassie has got to be one of my favorite female leads in a book. I love how she thinks things through and sees everything from all angles. She is cool, calm, and collected. Despite the hand that life has dealt her, she bounces back like a champ. She is awesome, plain and simple. The relationship between her and Evan is worth cheering for, It seems like they can never catch a break, but you know it has to be coming. This book kept me on edge. This is one of those books you pick up and read for an afternoon and don't put down until you are done. If you haven't started this series, you don't know what you are missing. Get a move on people!
Rating:
*This book belongs to the following challenges*
The Book Vixen's 2014 Outdo Yourself Reading Challenge
Under The Covers Book Blog 2014 Immortal Reading Challenge
*********************************************
A

bout Christine Amsden
Christine Amsden has been writing science fiction and fantasy for as long as she can remember. She loves to write and it is her dream that others will be inspired by this love and by her stories. Speculative fiction is fun, magical, and imaginative but great speculative fiction is about real people defining themselves through extraordinary situations. Christine writes primarily about people and it is in this way that she strives to make science fiction and fantasy meaningful for everyone. At the age of 16, Christine was diagnosed with Stargardt's Disease, a condition that effects the retina and causes a loss of central vision. She is now legally blind, but has not let this slow her down or get in the way of her dreams. (You can learn more here.)
In addition to writing, Christine teaches workshops on writing at Savvy Authors. She also does some freelance editing work.
Christine currently lives in the Kansas City area with her husband, Austin, who has been her biggest fan and the key to her success. They have two beautiful children.
Her latest book is Cassie Scot: ParaNormal Detective
*********************************************