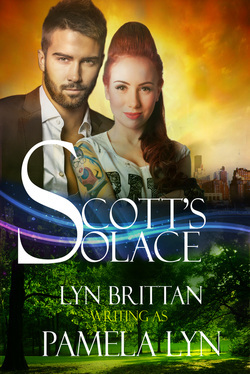 Author

: Lyn Brittan/Pamela Lyn


Series

: Lightening Catcher Saga


Number in Series

: 4
Pages: 82


Re-release Date

: October 5, 2014
Publisher: Gryy Brown Press


Genre

: New Adult/Paranormal Romance
Presented by: Red Moon Book Tours
Synopsis from Goodreads
When Jessica left the farm to start over in the city, she had her future all laid out. Too bad her plan for success went from super awesome to complete crap in twenty seconds, and all because of that stupid lightning catcher, Scott Ares. He looked a lot different from their small town days, all suited up and stuff, and it's not necessarily a bad look…

The only thing standing between Scott and his plan to destroy his father is Jessica Freaking Solak. The nerd he knew then and the tattooed motorcycle riding chick in front of him now couldn't be more different. Still, she's in the way and has gotta go. Although, it shouldn't cause too much drama if he kissed her once or twice first.

This is a standalone novella following the Gormly Clan.
*********************************************
Scott's Solace is a short story about a man named Scott. Scott is a rich man with a chip on his shoulder. He wants to prove to his father how well he can cope with out him and rub his nose in it at the same time. He ends up buying a house to make a profit out of. He knew he was going to get the house since he had the money. What he didn't expect was his childhood friend, Jessica, being there to buy the same house. He comes up with the bright idea to share whatever profit he gets out of the house with her. He definitely wants things his way and doesn't care much about anyone else. Sadly, Jessica is changing that and he is not sure he likes that.
I really enjoyed this novella.
I have not visited this world before, but I am curious about more. I found the characters quite interesting.

Scott was hard to like at times, I must say. He had daddy issues, but he was quite the jerk. Jessica was pretty awesome. I loved that she wasn't afraid to get her hands dirty and work for what she wanted. I loved the dynamic duo of Scott and Jessica. They were opposites, but they completed each other very well. I liked all what Jessica taught Scott about trying to live and survive. It made me love her more when she was able to stand on her own after Scott acts like an idiot again.
I did have an issue with this short read however. The characters are known as lightning catchers. They can control electricity from anywhere.
They have different hierarchies among them as well. The problem is that lightning catching is not really a major part of this story. This novella could have easily been written without it because it doesn't play into the plot. There is a very interesting scene with Scott, Jessica, and a socket, but that is something completely different. But this could very well be just a contemporary romance.
I did like this read though. This may be a standalone, but I think reading the previous books would help with understanding lightning catchers more. Jessica brought out the best in Scott. He was so focused on revenge, he couldn't really pay much attention to anything else. It made him so bitter. I loved them together. This was a sweet and fun little read that left a smile on my face.
Rating:
*********************************************
Lyn grew up in New Orleans and decided to live like her heroes, James Bond and Indiana Jones. She wasn't totally successful and never had to shoot her way out of a hotel bedroom. She's still coming to terms with it. Awards and woot-woots include: Amazon Sci-Fi Romance Best Seller, ARe Best Selling Author, SFR Galaxy Award Winner.
Connect with Lyn Brittan here:
*********************************************
Scott's Solace Blog Tour Schedule
January 26th
Kariny's Teen Boox Frenzy
January 27th
Happy Tails and Tales
January 28th
Book Chick
January 29th
Offbeat Vagabond
January 30th
Where Books Lead Us
February 1st
Musings in Fiction Alley
February 2nd
Kelly Smith Reviews
February 5th
Books are Love
Books by Centeno
February 6th
CBY Book Club