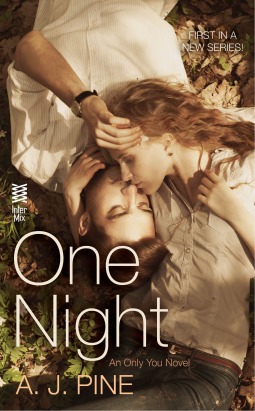 Release Date: April 21, 2015
Genre: Contemporary Romance/New Adult
Amazon
|
Barnes & Noble
|
Google Play
|
iTunes
|
Kobo
When she lost it all, Jess decided to cope by living a lie.

But you can't keep on pretending forever…

Twenty-one-year-old Jess used to have everything—a loyal best friend, a boyfriend she loved, and a future that was right on track. But in a single night, her whole world changed.

Now, Jess lives for the impersonal connection of drunken hook-ups and to-go coffee cups in the morning. All she needs is one night to pretend everything is fine…until she meets Adam.

Thanks to a sports injury, gorgeous, charming basketball star Adam Carson is stuck in physical therapy at the hospital where Jess interns—giving her the perfect opportunity to see his sweet, considerate nature and making her realize that maybe she does want something more.

But while Adam might be the best thing that's happened to Jess in a long time, letting him past her carefully constructed walls means letting him know what happened...and why he'd never want her for more than one night.

Includes a preview of the upcoming Only You novel, One Life.
*********************************************
Oh man, what an emotional read this was. I didn't know what to expect when I started this, but boy, am I happy. Our main characters Jess and Adam were amazing together. But I knew it would take a while before they get together, Jess is the main character of the story and everything is told from her point of view. That being said, the tone of the book was a bit depressing. I didn't dislike her, but she definitely has moments where you will be yelling at her like crazy. Something tragic has happened to her in her past. It was so bad, it drove her into a deep depression. She is better now, but it has completely altered her outlook on life. She makes sure not to have any connection with anyone. All she has are pointless one night stands because she thinks that is all she deserves. Then in walks Adam.
I think I could go on all day about how perfect Adam was. I mean absolutely perfect. Jess is training to be a physical therapist. Adam has just become Jess's first patient thanks to her teacher, Tracy. He is a basketball player who everyone loves and he can't wait to get back in the game. He has suffered a really bad knee injury and has been out for a season. Everyone, including him, are very excited for his return to the court. I was so happy when Adam and Jess met. He was sweet, flirtatious, kind, charming, and a gentleman. I mean like an actual gentleman. He was amazing. Everyone notices just how great he is especially Jess. Adam and Jess have a lot of chemistry from the get go. But Jess just wants to be friends because she thinks she doesn't deserve more. She thinks she will hurt him because of her past.
Jess will drive you mad with how she treats Adam sometimes. Adam is incredibly patient and he can see the walls Jess has put up between them. But Jess knows she is using him to just feel better. She has so many things in her past she needs to work through which includes her former best friend, Ashley, and her ex boyfriend, Bryan. We learn what it is and you really understand why she is on such a destructive path. I love that she is at least aware of her actions and her selfishness. She knows she has to work on herself, but she is obviously lost. But meeting Adam is the beginning of her breaking down her walls. Jess has a roommate she barely interacts with named Zoe and Zoe sees that Jess is in need of some perspective and she immediately jumps into the friend role. I really enjoyed Zoe. She was there for Jess when Jess didn't think she needed anyone. Whenever it seemed Jess was on her way to self destructing again, Zoe was there to listen and talk some sense into her.
This book was a great read. Jess was lost and selfish. Like I said, you will have a hard time liking her soemtimes. But you will understand her reasoning and you will root for her in the end. Adam came at just the right time and he is just the right guy. I breezed through this book though. Following Jess and seeing whether or not she will let anyone in is great. Seeing her connect with those around her when it is obvious she shut everyone out of her life is a great journey. I really enjoyed Pine's style. I look forward to reading more from her especially from this series. I have to say, I am already addicted and I want more.
*********************************************
About A. J. Pine
*********************************************